Sonora Police Chief Addresses Biker 'Profiling' Claims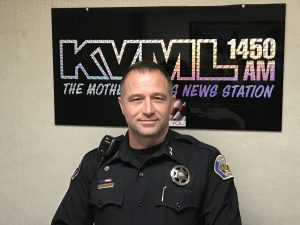 Turu Vanderwiel

View Photos
Sonora, CA – Following a social media posting of a video taken by a motorcyclist, who was heard alleging his group was being "profiled," Clarke Broadcasting reached out to City of Sonora Police for a response.
Acting Police Chief Turu VanderWiel describes actions taken by police on Washington Street's sidewalk beat early last week ahead of the Mother Lode Round-Up as "simply, some intelligence gathering." Officers encountering several bikers parked downtown at one point took some photos of motorcycles and their plates, which particularly set off some of the group members who were wearing jackets that carried "Jus Brothers" logo insignia.
One of the bikers recorded and posted a video on YouTube that has since circulated, receiving nearly 6,900 views. Warning: before viewing be aware that it contains audio of motorcyclists uttering profanities while making physical threats to the police on scene. Audible audio at the end includes a biker yelling to departing police an accusation that their actions were "profiling," further threatening to report and publicize the activities as such.
Profiling Under California Law
Chief VanderWiel emphatically states that the officers' activities in the field do not fall under the category of profiling as it is defined in California. Under current state law peace officers are prohibited from engaging in racial or identity profiling and under recently enhanced laws, there are training requirements and reporting accountabilities when complaints are made to maintain specific records of alleged profiling activities. The categories involve race, ethnicity or nationality; gender, age or religion; gender identity or expression; sexual orientation; mental or physical disability.
While Assembly Bill 2972, proposed to address "motorcycle profiling" claims was introduced back in February and made it through the Public Safety Committee, it failed by a 28-21 vote to pass the Assembly after a third reading. It awaits a motion to reconsider made on April 19.
The bill specifically sought to have the Vehicle Code amended prohibiting peace officers from engaging in "motorcycle profiling" while also creating a private right of action for individuals subjected to such profiling. The definition of "motorcycle profiling," as proposed was: "deciding to stop and question, take enforcement action, arrest, or search a person based on the fact that the person rides a motorcycle or wears motorcycle related clothing, without having any individualized suspicion of the particular person."
Chief VanderWiel comments that while the posted video preceded the Mother Lode Round-Up weekend festivities, it did not seem to put any damper on them. Downtown was busy, particularly for Saturday's parade, which experienced a great turnout, he reports. He adds, "Everybody had a great time and there were very few law enforcement incidents — and we look forward to next year on that."