Summerville High Principal Harford Accepts New Position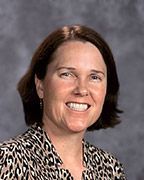 Diana Harford

View Photos
Tuolumne, CA — Summerville High School will begin the search for a new principal following the resignation of Diana Harford.
Superintendent Robert Griffith says Harford has accepted the position of "School and District Support" with the Tuolumne County Superintendent of Schools Office. Griffith notes, "It is an opportunity for her to take the experiences she has had at Summerville, which include being a teacher, grade level coordinator, director of curriculum, and principal the past two years, into a new position at the county."
Griffith adds, "While the district hates to see her go, as she's very talented, she'll now be serving students all over Tuolumne County."
The district will be gathering applicants for the principal position over the coming weeks and finalize a timeline for hiring her replacement at an upcoming board meeting. Harford was not immediately available for comment this morning.
Summerville is also in the process of hiring a new Superintendent, as Griffith is retiring at the end of the school year. He says an outside firm has been hired to lead the search and the district is hoping to hire his replacement by the end of June.