TUD To Discuss Water Treatment Consolidation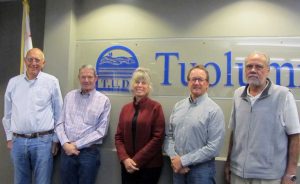 TUD Board - Jim Grinnell, Bob Rucker, Barbara Balen, Ron Kopf and Ron Ringen

View Photos
Sonora, CA — The Tuolumne Utilities District will hold a special meeting tomorrow focused on consolidating its water treatment facilities and searching for a new General Manager.
On the issue of consolidation, the district has been reviewing four different alternatives, all of which include having the Big Hill and Columbia water treatment plants remain as standalone facilities. A study ranks the most desirable option as being construction of a new water treatment plant in Sierra Pines and another one somewhere as close to Phoenix Lake as possible. While Phoenix Lake is the desirable location, it will depend on the availability of suitable land and willing property owners. The board will hear a presentation on the findings, and decide whether to move forward and identify and evaluate specific sites for the proposed treatment facilities.
In other business, the board has extended invitations to finalists interested in facilitating and conducting the search for a new General Manager, as Tom Haglund is retiring this summer. The special meeting will begin at 10am on Tuesday in the district meeting room on Nugget Blvd in Sonora.