Gunshots Fired At Sonora Home Result In Attempted Murder Arrest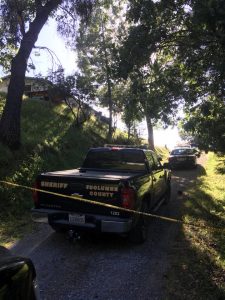 Attempted homicide scene

View Photos
Sonora, CA – The scary sound of a loud argument followed by shots ringing out prompted a neighbor to call 911 Friday afternoon.
Tuolumne County Sheriff's Office detectives are now investigating an attempted homicide that happened just before 4 p.m. on Friday. Deputies could see an injured person as they pulled up to house on the 21000 block of Crestview Drive. A closer look revealed it was a man lying on the front lawn of his home with multiple gunshot wounds. The 63-year-old man was flown from the scene to a Modesto hospital.
After questioning 54-year-old Karen Caster, who also lived in the home, she was handcuffed.  Caster was booked into the Tuolumne County Jail for attempted murder and inflicting injury on a spouse or cohabitant.
The investigation is ongoing as detectives try to determine what led up to the shooting.