Felon Pair Racks Up New Firearms, Ammo, Drug Charges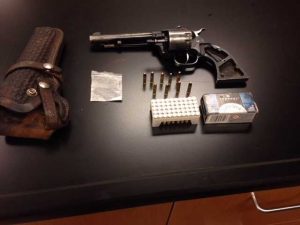 CCSO Evidence Photo Armstrong Rd Sheep Ranch arrests May 10 2018

View Photos
San Andreas, CA — Two locals were jailed on multiple felonies following a home search in Sheep Ranch.
According to Calaveras County Sheriff's officials, deputies and probation officers seized  firearms, ammunition, and methamphetamine during a home visit and compliance check Thurday afternoon at a residence in the 12000 block of Armstrong Road.
Tonya Conley, 46, and Mark Trotter, 45, both on probation and convicted felons, were arrested on various felony charges, including possession of firearms and ammunition by prohibited persons as well as violation of probation. Both were also charged with possession of a controlled substance.