More Revenue Than Expected, Gov. Proposes Saving And Some Spending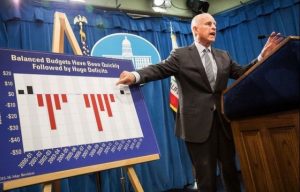 Governor Brown Releases Budget

View Photos
Sacramento, CA — Governor Jerry Brown released a revised state budget proposal today.  Negotiations with the Legislature on how to spend the projected $8 billion in higher revenues than projected in January are expected but Gov. Brown says, "This is the time to save for our future, not to make price promises we can't keep." He noted, "Revenues have grown since January but so have expenditures."
Gov. Brown notes an economic recovery has never lasted more than 10 years noting one will soon be overdue. To prepare Brown seeks to fill the rainy day fund to a projected $13.8 billion by the end of 2018-19 and put another $3.2 billion in a budget reserve fund for when disasters strike.
The May Budget Revision does include new funding. Specifically, $96 million in addition to the $160 million proposed in January's cap-and-trade expenditure plan, to support forest improvements and fire protection. Gov. Brown issued an executive order as well for new forest regulation goals in the hopes of reducing wildfires as detailed here. 
The Governor's revised budget seeks to expand the state's Earned Income Tax Credit program to workers between the ages of 18-25 and above 64, and adjusts income limits to reflect the minimum wage increase to $12 per hour in 2019.
According to the Governor's office more will be spent on education, amounting in about $4,600 more per K-12 students compared to 2011-12 levels. The state will fully implement the Local Control Funding Formula and permanently increase the minimum per pupil funding school districts receive to help offset rising costs.
The May Revision refines the state's California Online College plan and the new funding formula for community colleges and maintains the 3 percent increase in funding for higher education proposed in January while continuing to keep tuition levels unchanged at both the University of California and California State University systems.  The May Revision also provides each university system with $100 million in new, one-time funding for deferred maintenance. Since the end of the Great Recession, the UC system has received $1.2 billion in new funding, the California State University system has received $1.6 billion and community colleges have received $2.4 billion.
The proposed budget seeks to provide $359 million to assist local governments to address homelessness and hopes to provide another $312 million for Mental Health Services. Specifically the state could provide more funding for programs that help people with mental illness, including training for mental health professionals and early identification of mental health problems. This includes $254 million to help counties serve youth with mental illness. To help address the state's housing shortage, the May Revision also proposes to place the $2 billion "No Place Like Home" bond on the November ballot, which would expand housing opportunities for Californians with mental illness.
The state will keep its existing commitments to increase funding for Medi-Cal, Cal Grants, child care, In-Home Supportive Services and foster care reform, among other programs.
The Governor also proposes one-time expenditure for infrastructure or $2 billion to address "huge liabilities from years of deferred maintenance" and would use the funds for universities, courts, state facilities and flood control.