Pumping More Funds Into Fighting Wildfires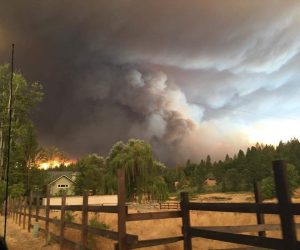 2015 Butte Fire Visible From Glencoe

View Photos
Sacramento, CA — Following some of the deadliest and most destructive blazes in state history, Governor Jerry Brown has signed an executive order aimed at reducing destructive and dangerous wildfires.
The order, signed Thursday, would accelerate forest management operations like thinning dense areas of trees and setting prescribed burns to stamp out brush. Brown targets doubling those practices to 500,000 acres or 781 square miles of
forest. The Governor releases his May budget revision today, which will include $96 million to support those efforts.
"Devastating forest fires are a profound challenge to California," said Governor Brown. "I intend to mobilize the resources of the state to protect our forests and ensure they absorb carbon to the maximum degree."
Brown released these key elements of his order that include:
Doubling the land actively managed through vegetation thinning, controlled fires and reforestation from 250,000 acres to 500,000 acres.
Launching new training and certification programs to help promote forest health through prescribed burning.
Boosting education and outreach to landowners on the most effective ways to reduce vegetation and other forest-fire fuel sources on private lands.
Streamlining permitting for landowner-initiated projects that improve forest health and reduce forest-fire fuels on their properties.
Supporting the innovative use of forest products by the building industry.
Expanding grants, training and other incentives to improve watersheds.
Eight of California's most destructive fires have occurred in the past four years. View Brown's entire executive order here.