Round-Up Parade Street Closures and New Rules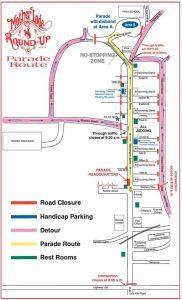 Mother Lode Roundup Parade Map

View Photos
Sonora, CA — There are new rules this year to help safely accommodate Mother Lode Round-Up Parade goers in downtown Sonora.
Sgt. Chris Rogers also says,"Because this is a family event and the safety of all spectators is of the utmost importance, no glass alcoholic beverage containers will be allowed on the streets, sidewalks, or other public areas during this event."
Stopping or letting off of students or parade participants on Mono Way Saturday morning will not be allowed this year. There will be an official drop off area at the parade headquarters located on S Washington Street at Restano Way.  Sonora Police Spokesperson Sgt. Chris Rogers says this is to prevent kids and others from crossing the street on their own. A preliminary parade entry line-up has been posted in the Mother Lode Round-Up Section Here.
The HWY 108 exit onto S Washington Street at Lime Kiln Road will close at 8AM, and westbound Mono Way traffic will be detoured onto Stewart Street at Restano Way beginning at 9:30AM. Vehicle traffic seeking access to Stockton Road will need to use Highway 108.  
Washington Street will be closed for parking from the Red Church to Toby Lane starting at 5AM until after the parade which is anticipated to conclude in the Noon hour.
In addition to Washington Street's closure from HWY 108 to Restano Way at 8AM, the rest of Washington Street will be closed to the Red Church as well as Snell Street over to School Street at 9:30AM. The side streets connecting to Washington Street will also close at 9:30AM. The side street closures begin at the streets running parallel to Washington on either side, Green Street and Stewart Street.
Detours will be posted for Washington Street. Residents living in the Tuolumne Street, Calaveras Street, Nevada Street and Oregon Street areas will be allowed access to their neighborhood from the Highway 108 at South Washington Street closure.
"No parking" will be allowed on Washington Street from Elkin Street to Toby Street, between 5:00AM until after the end of the parade. All side Streets between Green Street and Stewart Street will be no parking zones, as well School Street, Wykoff Street and portions of Snell Street. Parking restrictions also apply to Stockton Road between Washington Street at 70 W. Stockton Road (Cazadora Restaurant). Special signs have been posted for "No parking" zones, and any vehicles parked in these will be towed.
Motorists traveling eastbound on Stockton Road will be detoured at Forest Road. Those who continue to Stockton Road will be turned around prior to the Green Street intersection. Large tractor-trailer type vehicles who reach this point may have to remain parked until the conclusion of the parade. Motorists can expect heavy vehicle and pedestrian traffic at the conclusion of the parade so we ask for your patience and use extreme caution when traveling in this area.
If you have any questions, you may call the Sonora Police Department at 532-8141