Honoring California's Fallen Heroes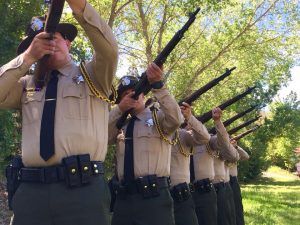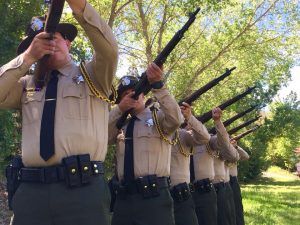 Tuolumne County Peace Officer's Memorial, 2018

View Photos
Sonora, CA –Tuolumne County law enforcement agencies gathered this afternoon to honor those who have fallen in the line of duty.
The Tuolumne County Peace Officer's Memorial, 2018 was held at the Mother Lode Fairgrounds. Similar somber events are taking place around the state and nation in honor of National Peace Officer Memorial Day, which is recognized annually on May 15th.  It is held to honor federal, state and local officers killed or disabled while protecting the public.
Today's Keynote Speaker was retiring Sheriff Jim Mele, who with his voice cracking told the crowd, "My closing remark is to the Tuolumne County Sheriff's Office and all those that are in law enforcement…I am proud to say that I am one of you. May God bless you. May you know that my thoughts, my prayers will always be with you.  To the public, thank you for allowing me to be your sheriff. There has been no greater honor."
The state of California lost nine peace officers in 2017, and the names were read off during the memorial ceremony. You can click on the slideshow icon to see a list of those fallen heroes who tragically passed away last year.