Man Sought In Connection With Calaveras County Vandalism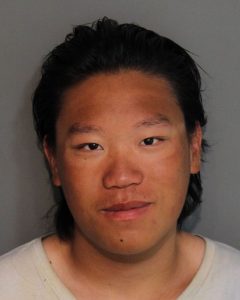 Andy Xiong

View Photos
San Andreas, CA – The public's help is being sought to catch a vandal who used a rock to break-in to a Calaveras County bank, but the suspect disappeared before law enforcement arrived.
The Calaveras County Sheriff's Office is calling 22-year-old Andy Xiong from Willows, California a person of interest in the felony vandalism committed at the San Andreas Wells Fargo Bank around 9 p.m. on Tuesday. He is wanted for questioning, according to sheriff's official.
The crime was called in by a person who witnessed a man throw a rock through the front door of the bank and then walked through the broken glass into the building. The vandal then appeared to look around, but did not take anything and then left on foot, according to the caller.
Once on scene, deputies questioned the witness and determined Xiong as a person of interest in this case. Recently, he has been seen frequenting the San Andreas area as a transient, according to sheriff's officials.  Anyone who has information on his whereabouts is asked to contact the Sheriff's Dispatch at 209-754-6500 or the Sheriff's Office anonymous tip line at 209-754-6030.