Bandyopadhyay Picked To Lead Columbia College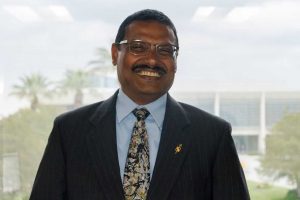 Dr. Santanu Bandyopadhyay

View Photos
Columbia, CA — Last night the Yosemite Community College District Board of Trustees hired Dr. Santanu Bandyopadhyay to become the next President of Columbia College.
YCCD Chair Darin Gharat says, "The decision was unanimous. The board looks forward to Dr. Bandyopadhyay's leadership and is confident in his commitment to serving the students and community within the Columbia College service area."
Dr. Bandyopadhyay has 21 years of experience in higher education, including 13 years as a leader in community college education. He is currently the Executive Vice President of Educational Programs and Student Services at Cypress College in southern California.
YCCD Chancellor, Henry Yong, says, "Dr. Bandyopadhyay is an excellent fit for Columbia College. His teaching experience, background in research, and years in higher education, specifically in community colleges, will serve the college well."
Dr. Bandyopadhyay adds, "I am thrilled to be the next president at Columbia College. That natural beauty of the campus and friendliness of the people I met during the forum left a lasting impact. I am looking forward to working with campus folks and the community."
Dr. Bandyopadhyay will replace the retiring Dr. Angela Fairchilds on July 16.