Cables Coming For Half Dome Climbers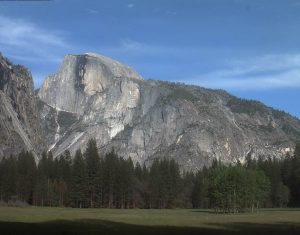 Half Dome In Yosemite

View Photos
Yosemite National Park, CA — Rangers at Yosemite say the Half Dome cables should be in place for visitor use this Friday, also reminding hikers of the daily lottery for permits to ascend the iconic granite landmark.
The lottery for Friday's limited required permits opens tomorrow. Applications are accepted from 12:01 a.m. until 1 p.m. two days in advance of visitors' intended hiking dates. According to Yosemite National Park officials, lottery applicants may request up to six day-use permits.
Necessary to ascend the Half Dome cables 24 hours a day, seven days a week, these permits cost $10 apiece; additionally, a $10 application fee is also charged for each application.
Interested hikers cannot purchase day-use permits in person through any office in Yosemite National Park as they are handled through an online lottery system available by clicking here. When doing so, remember that applicants must provide their legal name as a matching government-issued ID is required at the permit checkpoint.
Rangers advise that come Friday the Half Dome trail will be wet and icy in places. Those planning to ascend will need to have their day-use permits as well as be prepared for wet and cool hiking conditions.