Mariposa Outdoor Recreation Hot Spots Opened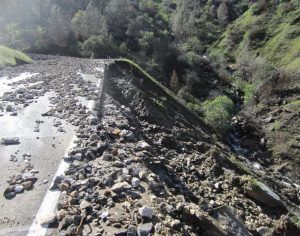 Storm Damage In Mariposa County

View Photos
Mariposa, CA — After dealing with mudslide damage this winter, the Bureau of Land Management (BLM) Mother Lode Field Office is opening the gates to outdoor recreation sites along the Merced River for some fun in the sun.
The Briceburg Visitor Center situated 12 miles northeast of Mariposa along State Route 140 at the entrance of the Merced River Recreation Management Area has reopened. The hours of operation are Fridays from 1p.m. to 5 p.m., Saturdays and Sundays from 9 a.m. to 5 p.m. Next door to the center is the Briceburg Put-in. It is open for boat launching and includes day use parking and restrooms facilities along with barbeque grills for picnickers. This is also the site for the Merced River boasts Class III and Class IV white-water rapids events.
Areas hit hard by the March storms, including McCabe Flat, Willow Placer and Railroad Flat campgrounds took several weeks of cleanup and repairs as reported here, but all have been reopened. Campers can stay on a first-come, first-serve basis for ten bucks a night. Visitors can try their hand at gold panning and a host of other activities including swimming, fishing, and hiking. BLM officials remind and caution swimmers that during the snowpack run-off season the Merced River waters can be very dangerous due to frigid temperatures and fast moving currents. There is also no lifeguard on duty. For further visitor information, click here.