CAL Fire Urges 'Get Ready' During Wildfire Awareness Week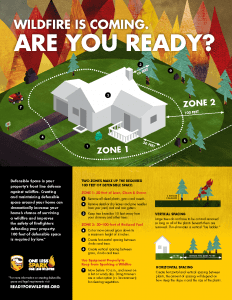 CAL Fire Defensible Space Infographic

View Photos
Sacramento, CA – Today, as Governor Jerry Brown proclaimed it "Wildfire Awareness Week," CAL Fire officials noted that crews have already responded in 2018 to 950 wildfires that burned over 5,800 acres.
"Our firefighters train hard to prepare for wildfires. Residents need to do the same," CAL Fire Director Chief Ken Pimlott states. He points out that wind-driven embers can destroy homes or neighborhoods far from a wildfire's actual flame front. "The reality is that in a major wildfire, there simply will not be enough aircraft, fire engines, or firefighters to defend every home in the early stages of the incident — this reality requires you to take personal responsibility for protecting yourself, your family, and your community," he emphasizes.
Along with creating a defensible space by clearing brush at least 100 feet or more away from dwellings and outbuildings and using fire resistant landscaping to help stop the spread of wildfire, state fire officials say to safeguard homes by using fire-safe construction features; also address potential points of entry where embers can enter the home during a fire.
By accepting fire as part of the natural landscape, understanding potential fire risks, and taking action before a wildfire starts, officials say residents will help minimize harm to people, homes, businesses, and community assets. They also stress that increased fire danger and public safety risks continue due to lower moisture levels still evident from the state's recent five-year drought as well as ensuing bark beetle infestations that are still wreaking damage upon the forest landscape; current statewide mortality figures are an estimated 129 million trees.