A Public Scoping At Yosemite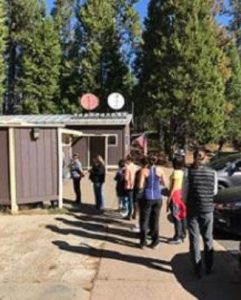 Yosemite National Park Big Oak Flat enterance restrooms

View Photos
Yosemite, CA — Yosemite National Park officials want to hear feedback on their plans for the Big Oak Flat Visitor Contact Station and Emergency Services Facilities Project through letters, online and at a scoping meeting.
The public has until June 4th to weigh in on the project. The plan is to improve the overall visitor experience, restrooms to reduce wait times, parking, visitor safety, travel signage, meet accessibility standards, and correct long-standing building maintenance issues, according to park spokesperson Jamie Richards, who adds, "This is going to be a great project in order to help us take an aged restroom and visitor contact station, basically a visitor center, right by the Big Oak Flat entrance gate and modernize that facility so that it meets the use that people want to see and expect to see from such a facility today."
The park will offer several ways for the public to voice their opinions. "Anyone in the United States, in the world and particularly those in our local communities who really want to have their input felt, particularly anyone who goes through the Big Oak Flat entrance facility – we want to hear from you," encourages Richards. She adds, "If you have thoughts, concerns, ideas, suggestions; we want the public to go into the website, look at the project and submit your thoughts. There's also going to be a public meeting held later this month."
The scoping meeting, which includes a presentation from the National Park Service, will be held Friday, May 18th from 3 p.m. to 5 p.m. at the Rush Creek Lodge at Yosemite located at 34001 Highway 120 in the Private Dining Room.
Those who cannot make the meeting can go online, here, and make a comment. Letter can be mailed address it to:
Superintendent
Yosemite National Park
Attn: Big Oak Flat Entrance EA
P.O. Box 577
Yosemite, CA 95389
Park officials provide this detailed list of areas the plan addresses:
Enhance visitor services by improving wayfinding and orientation
Update and improve a restroom facility to meet current and future demands
Improve congestion and reduce vehicular-pedestrian conflicts
Upgrade outdated utilities systems and improve accessibility deficiencies
Provide an emergency services facility with adequate parking for ambulances and ranger vehicles
Address visitor safety issues related to parking, lighting, and fire protection