Erratic Driving Lands Two Women Behind Bars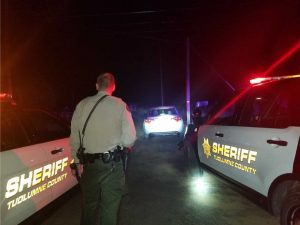 Jamestown drug bust arrest site

View Photos
Jamestown, CA — A Sheriff's deputy pulled over a silver Toyota sedan on Chicken Ranch Road in Jamestown late Wednesday night after it sailed by and swerved into the oncoming traffic lane.
While questioning the driver, 53-year-old Kelly Schriver and passenger 31-year-old Ashly Schriver, the deputy ran a records checked. It showed Ashly had a warrant for drug possession and Kelly was a convicted felon.
A search of the vehicle uncovered mace in Kelly's purse. She also had 8.36 grams of methamphetamine and a pipe hidden oh her.  Ashly handed over a pipe and 80 new plastic baggies stashed on her. Kelly admitted to selling the drug and giving it to Ashly.
Both women were arrested and booked into the Tuolumne County Jail on several drug related charges along with possession of pepper spray and failure to drive on the right half of the roadway. Ashly's bail was a combined amount of $13,000 while Kelly's was set at $20,000.