First Weekend Of May Events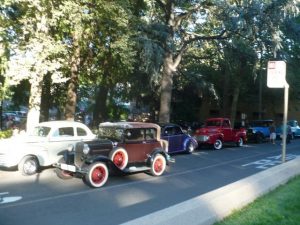 Classic Cars

View Photos
There are indoor and outdoor events planned this weekend in the Mother Lode.
Tuolumne County's Relay For Life 24 hour race begins Saturday at 9AM.
The Annual Hot Copper Car Show is this weekend in Copperopolis. The Lake Tulloch Lions Club sponsors the show with all proceeds going to benefit the community through scholarships, support for local services and local nonprofit organizations. There will be food, raffles, dozens of vendors and face painting for the kids. Details are here.
Sierra Repertory Theater will wrap up its last performances of Million Dollar Quartet in Columbia at the Fallon House. Driving Miss Daisy continues at Black Bart Theater in Murphys. The East Sonora Sierra Repertory Theater opens its musical, A Midsummer Night's Dream and Mountain Youth and Community Theatre (MYACT) in Sonora is performing Suessical Jr.
At Independence Hall in Arnold beginning at 9AM get information for Wildfire Community Preparedness Day. There is a free photography Seminar at Big Trees Park in Arnold, or another photo opportunity after a hike to the New Melones Dam Overlook.
Sierra Waldorf School will celebrate with a May Day Festival starting at 10AM. In downtown, on Saturday, Sonora the UCCE Tuolumne County Master Gardeners are hosting a Open Garden Day.
Saturday evening in Columbia is the Cinco de Mayo Celebration at Church of the 49ers or at the Sonora Elks Lodge enjoy the Italian Nights Spaghetti Dinner. Saturday evening is also the Black & White Charity Ball to benefit Habitat for Humanity at the Black Oak Casino Resort.
In Murphys is the 8th Annual Chili Cook Off, and the Mountain Melody Women's Chorus Spring Concerts will be held at the Union Congregational Church in Angels Camp on Saturday and at Ayrael Vieux Vineyards in Douglas Flat on Sunday.
On Sunday Tuolumne Memorial Park will host the first Tuolumne County Daschund Dash Races. Details are here, all Sunday's events are here.