Heads Up: Mother Lode Round-Up Parade, Parking Info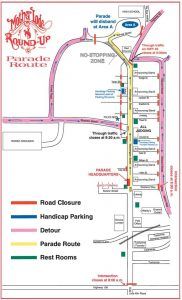 Mother Lode Round-Up Parade Logistics 2018

View Photos
Sonora, CA — It appears the City of Sonora is clearly assuming that Coyote Sam and his band of misfits continue to bat zero in their efforts to quash the Mother Lode Round-Up.
Today, city officials released logistics details for the annual grand parade through downtown, an event that is expected to draw thousands of locals and visitors into downtown Sonora on Saturday, May 12.
It is a highlight of what will be the Mother Lode Round-Up's 61st year; as the attraction is a popular all-ages one, safety is paramount, according to local police, who point out that glass alcoholic beverage containers will be banned from all streets, sidewalks and other public areas. Additionally, folks planning to drive in and around Sonora will need to plan ahead in other to successfully navigate parking zones and detours around planned major street closures.
While detour signs will be posted ahead of time, the city has released an infographic (you can view it in the image box) illustrating logistics details.
Key Parade-goer, Detour Details
Those planning on attending the parade are encouraged to arrive before 9 a.m. to find parking and get settled. Access for participant drop-off will be South Washington Street, south of Restano Way. No access will be allowed from Mono Way after 8:30 a.m., according to local police — and there will be absolutely no stopping and unloading from Mono Way once controls are in place.
Motorists traveling eastbound on Stockton Road will be detoured at Forest Road. Those who continue onto Stockton Road will be turned around prior to the Green Street intersection. Police officials say that large tractor-trailer type vehicles who reach this point will be may have to remain parked until the conclusion of the parade.
Motorists can expect heavy vehicle and pedestrian traffic at the parade's conclusion and are asked to be patient and use extreme caution when traveling in the area.
Street Closures, No Parking Zones
— South Washington Street between Restano Way and Highway 108 will close at 8 a.m.
— North Washington Street at Snell/Elkin to South Washington Street at Restano Way will close at 9:30 a.m., as will all side streets between Stewart and Green streets and portion of Snell and School streets
— Vehicle traffic seeking access to Stockton Road will need to use Highway 108 and westbound Mono Way traffic will be detoured onto Stewart Street at Restano Way
— Residents living in the areas of Tuolumne, Calaveras, Nevada and Oregon streets will be allowed access to their neighborhood from the Highway 108 at South Washington Street closure
— NO parking will be allowed on Washington Street from Elkin Street to Toby Street, between 5 a.m. and the end of the parade. All side Streets between Green and Stewart streets will be NO parking zones along with School and Wykoff streets and portions of Snell Street
— These NO parking restrictions also apply to Stockton Road between Washington Street at 70 W. Stockton Road (Cazadora Restaurant)
Note: Special signs have been posted for these "no parking" zones and any vehicles parked in these will be towed.
For more information call Sonora Police at 532-8141. For details and to follow everything related to this year's Mother Lode Round-Up, click here.