Coyote Sam Disrupts Sonora Ahead Of Mother Lode Roundup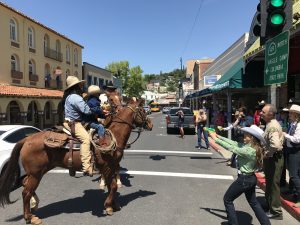 Coyote Sam In Sonora
Sonora, CA — It is a sign the Mother Lode Roundup is just over a couple of weeks away…Coyote Sam and his gang of misfits rode through downtown Sonora this afternoon.
The gang of derelicts disrupted a roundup luncheon held during the noon hour that was attended by many Tuolumne County Sheriff's Posse members and supporters. Members of the posse, the queen candidates and even Sheriff Jim Mele couldn't stop Coyote Sam and his group of undesirables from disrupting Washington Street shortly before 1pm (see video). They rode into town on horseback, guns firing, and vowing they would finally put an end to the Mother Lode Roundup.
Assuming  Coyote Sam comes up short, and it does go on this year, it will mark the 61st anniversary of the community event. You can view more about the 2018 Mother Lode Roundup by clicking here. 
Also of note, at the luncheon Kelly Robinson was officially awarded the "Top Hand" award for his contributions to the Mother Lode Roundup over the years.