Pair Busted After Stolen Vehicle Found In Sonora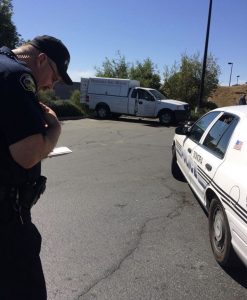 Stolen Truck Recovered In Sonora

View Photos
Sonora, CA — The Sonora Police Department was notified about a suspicious looking truck parked in the Crossroads Shopping Center near Starbucks, and learned it had been stolen the day prior out of Berkeley.
The vehicle had a logo for the non-profit charity "Dorothy Day House." The group was contacted and it was confirmed the truck was stolen. Officers located Michael Brennan of Oakland and Corrine Benavidez of Ceres near the vehicle, and the investigation determined that Brennan was responsible for the theft. Drug paraphernalia was found inside the vehicle. Brennan was booked into Tuolumne County Jail and Benavidez was cited for an unrelated charge and released from the scene.
However, the Police Department notes that Benavidez was arrested about an hour later for allegedly trying to walk out of nearby Safeway with unpaid groceries valued at hundreds of dollars.