Volunteers Honored For Service To Tuolumne County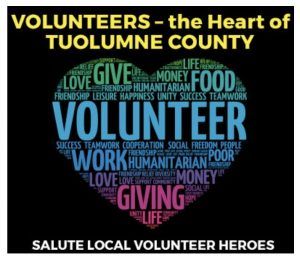 Volunteers Are The Heart Of Tuolumne County

View Photos
Sonora, CA — Sierra Non-Profit Services held its annual spring luncheon to recognize local volunteers that go above and beyond in their commitment to the community.
Marking its 16th year, the luncheon was held this afternoon at the Sonora Elks Lodge, and Star 92.7 morning show co-host Maryann Curmi was the emcee. The information below about the award winners was provided by Sierra Non-Profit Services.
Extra Mile – Winner
Catherine Gordon
This year's Extra Mile winner is Catherine Gordon.  Over the last year, Catherine has provided invaluable volunteer work for the Mountain Youth and Community Theater.  In addition to organizing and overseeing its yearly fundraiser, she also directed its evening entertainment. She also acted as musical director and mentor for its performing arts troupe.  Her devotion in seeing a project through to completion is evident in her involvement in showcasing talents of the youth community and maintaining various endeavors within the theater. But Catherine's most rewarding contribution has been in providing a space for creative voices to be heard.  This could only be accomplished by Catherine's indomitable sense of commitment to the community.
Community Excellence – Winner
Charles 'Charlie' F. Habekost, D.D.S.
Charlie is a periodontist.  But this is only a small part of the story.  What makes Charlie 'the hero' he is, is his kind disposition and willingness to help others, especially veterans and those in need.  His story is unique: he did not graduate from high school. Instead, his mother signed for him at age 17 to join the Navy for six years, were he earned a GED.  After his stint, he went on to enroll in dental school at Emory University in Atlanta, Georgia. And it is here where Charlie makes the difference. He serves through Rotary and other organizations, and is generous with his talents, his time, and his finances.  In addition, he helps out at various community and church free health and dental days, and providing veterans a discounted rate for health care. His spirit of giving back is what makes him the winner of "Community Excellence."
Never Too Young – Winner
Jameson Patterson (10 years old)
You can find the most inspirational stories where you least expect it.  Such is the case with this year's Never Too Young winner, Jameson Patterson. Jameson's crusade started as a student at the Foothill Leadership Academy where she began collecting peanut butter and jelly for hungry kids in her community.  Once the germ of that volunteer spirit took hold, Jameson was able to go above and beyond the children of her age. She started collecting donations of PB&J and working with the ATCAA Food Bank, saw it distributed throughout the local community.  This dedication led to her becoming the ATCAA Junior Ambassador, as well as the poster girl for the Save Mart Peanut Butter Round-up last year. She has also volunteered at the Senior Center and the Hope Center, and it is this spirit of giving that we celebrate today.
Lifetime Achievement – Winner
Jeanette Lambert
This year's Lifetime Achievement winner is Jeanette Lambert.  And over her lifetime, Jeanette has been instrumental in the success of programs associated with the David Lambert Community Drop-In Center.  Jeanette has a knack for encouraging others to find their inner strength and become more involved in the local community. She gives her best to those who spend time at the Center in addition to donating her efforts to other outreach groups such as the Homeless Task Force in Sonora.  Her dedication to her projects and coordination with others in the volunteer community results in action. By working with other organizations such as 4H, scouting groups, and local churches, Jeanette sees that all collaborative efforts involved go to a greater purpose. Her organizational skills and sense of duty have touched the lives of many.  And for that, we are profoundly grateful.
Ed Minium Judge's Legacy Award – Winner
Martha Stolp
A legacy is considered to be anything handed down from a predecessor that perpetuates its importance.  And this year's Legacy Award winner exemplifies that. Martha has spent the last 30 years volunteering with the Infant Child Enrichment Services Board of Directors.  She has a demonstrated love and concern for the children of our community, and this is evidenced by her donating time to the ICE Children's Fair each year. Martha also volunteers her time at local schools to discuss future career opportunities in the healthcare field with interested students.  Her knowledge and enthusiasm has prompted many students an opportunity to consider post-academic careers, as well as influencing their directions for the future. In doing so, Martha has planted the seeds for a new generation of learners and potential leaders. This is her legacy, and this we celebrate today.
Volunteer's Champion – Winner
TMAP– Tree Mortality Aid Program
This year's Volunteer's Champion Award winner recognizes the incredible contributions made by the Tree Mortality Aid Program.  TMAP was founded in response to the very real worry of dead and dying trees, and the danger they posed to senior and disabled homeowners who cannot afford their removal.  As a collaborative effort built of many individuals and organizations, TMAP continues to work diligently to provide peace of mind. It is an incredible and vitally important cooperative effort that highlights the importance and success that comes with organized volunteer work.  In the past two years, TMAP has mobilized many local agencies to contribute time, money, and expertise to this cause. The results speak for themselves; over the course of 2000 hours, TMAP assisted over 100 homeowners and cleared over 300 trees which greatly reduced the risk of catastrophic fire danger in our community. Not only does TMAP provide a crucial service, but they also provide a much-needed sense of security for Tuolumne County.