Sonora Building Damaged During Storm To Be Demolished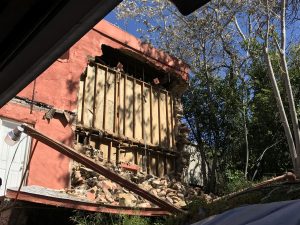 Damaged Building On North Washington Street

View Photos
Sonora, CA — Workers will be on scene next week removing an old building that was damaged by a storm system earlier this month.
Crews will be demolishing the building that sits at 87 and 89 North Washington Street. The damaged site is difficult to view from the street, but it is a structure situated directly behind the Bagel Bin downtown (that business is not impacted).
The damaged building has been deemed a safety risk, so it will be removed by Radetich Construction and Lovett Excavation. The building was unoccupied when it started to crumble.
The demolition work will run this coming Monday through Friday, April 23-27, from 8am-5pm. North Stewart Street, between Elkins and Dodge, will be closed to through traffic. There will also be no parking there during those hours. It is recommended that the public utilize East Jackson Street as an alternate route.