Large Fire Ignites Near Eastern Slope Of Sierra Nevada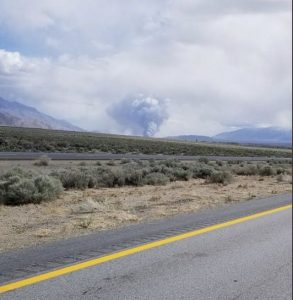 Moffat Fire In Inyo County

View Photos
Inyo County, CA — 240 firefighters are working to extinguish a 1,050 acre vegetation fire burning along Highway 395.
CAL Fire reports the "Moffat Fire" was located at around 10:30am on Thursday near the intersection of Moffat Ranch Road in Inyo County. Highway 395 was closed for a period yesterday, but it is back open this morning. CAL Fire reports that the incident is 15-percent contained. There are 12 engines assigned, along with 10 crews, three helicopters, three dozers and 10 water tenders.
It is unclear what ignited the blaze. The firefighting response is a unified effort between CAL Fire, Caltrans, the CHP and the Inyo County Sheriff's Office.