Alleviating Traffic Congestion In Yosemite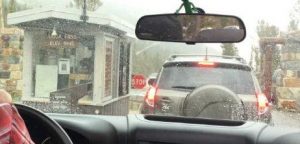 Tioga Pass gate at Yosemite National Park

View Photos
Yosemite, CA – Long lines of vehicles at the entrance gates with slow and go travel through Yosemite National Park is prompting a two weekend pilot program aimed at improving visitor access on the Highway 140 corridor.
The program will start the weekend of Thursday, April 26 and run until Sunday, April 29 and then begin again on Thursday, May 3 to Sunday, May 6. With input from Caltrans and the CHP, the objective is to test a new way to pace and send vehicles to the Arch Rock Entrance Station, improving visitor safety and access while enhancing the overall visitor experience on busy traffic days, according to park officials.
The plan is to reduce the number of vehicles stopped in a rockfall zone along El Portal Road between the busiest time of travel from 9 a.m. – 2:00 p.m.  Vehicles will be lined up about five miles east of the Ferguson Slide Bridges, in El Portal on Highway 140 and then be sent in increments to the station.
The park has implemented similar pilot programs designed to improve access to parking and traffic flow inside the park in past years.  The gathered data will be used to better understand traffic patterns with a goal of reducing traffic congestion and improving the visitor experience.