Yosemite To Use Entrance Fee Increases For Upgrades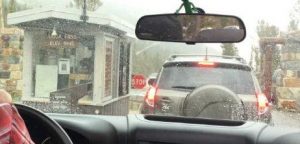 Tioga Pass gate at Yosemite National Park

View Photos
Yosemite, CA – Yosemite National Park reports the money received from the recently approved hike in entrance fees will target infrastructure needs and improving visitor experience.
As reported here on Thursday, after hearing an outcry from Americans opposed to a proposed $70 per vehicle entrance fee hike to help pay for infrastructure and maintenance needs, U.S. Interior Secretary Ryan Zinke instead decided to a $5 raise at the gates of 17 popular parks in the nation. Yosemite officials outline the new costs as $35 per vehicle, $30 per motorcycle, $20 per person over 16 years old and an annual park pass will cost $70. The last spike in fees was in 2015, while the new increase is effective June 1st.
Noting that the fee structure addresses many concerns and ideas provided by the public, park officials relay that 80 percent of its entrance fees stay in the park and are devoted to spending supporting visitor experience. The other 20 percent goes to the National Park Service to divide up among all park projects.
"Your recreation fee dollars support critical programs and services that directly benefit visitors to Yosemite National Park," stated Yosemite Superintendent Michael Reynolds. "Visitors to Yosemite deserve to experience world class campgrounds and other facilities in a world class park. This fee increase will help the park address many important maintenance and infrastructure needs."
The additional revenue also will go towards update aging restrooms and water treatment plants, support restoration needs at Bridalveil Fall, address maintenance needs in the Upper and Lower Pines Campgrounds, improve hiking trails and visitor parking areas, according to park officials.
Although national parks have seen record breaking visitation of 1.5 billion visitors in the last five years, totaling $199.9 million in entrance fees in 2016, the combination of aging infrastructure and maintenance deferred on facilities has created a $11.6 billion nationwide backlog. The additional funds will pump about another $60 million into the national park service's coffers.