Tree Mortality Projects To Ramp Up In Tuolumne County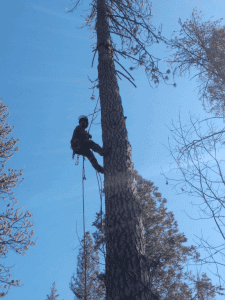 Tree Removal

View Photos
Sonora, CA — Tuolumne County received $2.4-million in CAL Fire state responsibility area funding to carry out various tree mortality projects, and many will be starting up over the coming weeks.
Ethan Billigmeier with the Tuolumne County Office of Emergency Services says the funding is available through next March, and projects are slated for areas like Ponderosa Hills, Mi Wuk Village, Soulsbyville, Ridgewood, Crystal Falls, Curtis Creek Ranch, and various locations around Twain Harte.
The funding is for tree removal efforts on private property, such as trees threatening homes.
Billigmeier notes, "Pondorosa Hill is our first project slated to start, and that will probably be in the next week or so. Residents should start to see our tree markers out there, walking around the neighborhood, and marking trees that qualify for the program. We're going to try to do projects concurrently, so Mi Wuk Village will also soon start seeing tree markers out there in that area."
The Ponderosa Hills project covers about 400 parcels and Mi Wuk Village around 900 parcels.
The county is also offering a new electronic right of entry form via the internet for homeowners potentially eligible for tree removal efforts, and it can be accessed by clicking here. For additional information you can also call 533-6395.