TCSO: Another Hoax E-mail Threat Made To Local Schools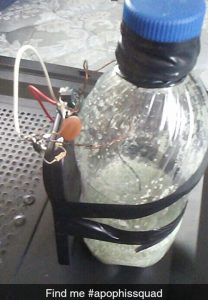 Image included in e-mail threat

View Photos
Sonora, CA — Many school districts in Tuolumne and Calaveras counties last night received an e-mail threatening that a male student would enter campus at the beginning of the day with a bomb in a bag.
Tuolumne County Sheriff's Office spokesperson Andrea Benson reports the e-mail did not mention a school by name, nor say a specific date when the action would occur. She adds that the threat is believed to have come from the group ApopisSquad, the same hacking group responsible for similar threatening type emails sent to school districts across the nation earlier this week.
She adds, "The FBI is aware of the new threat and an investigation is ongoing into the hacking group and hoax emails. Although these emails have been deemed a hoax, our office takes any threat to the safety of our school campuses and students seriously."
The Angels Camp Police Department also confirms that similar emails were sent last night to schools in Calaveras County.