Sheriff Shares Latest In Fatal Shooting Of Motorcyclist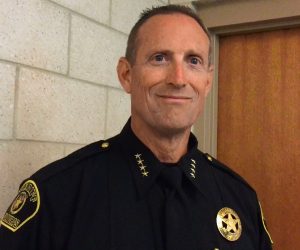 Calaveras Sheriff Rick DiBasilio

View Photos
San Andreas, CA — More questions than answers are still swirling in the aftermath of a motorcyclist's mysterious death this past weekend following an apparent shooting incident.
According to Calaveras County Sheriff Rick DiBasilio, "We are still following up on what leads we have. The problem is that the area…is fairly remote…there were no witnesses that we are aware of that have come forward at this time — so we are still trying to put the pieces of the puzzle together, talking to the victim's friends and family members."
The deceased, 43-year-old Jack Edward Watts of Manteca, had apparently been riding with friends Sunday afternoon before stopping along the way at a gas station. According to the sheriff, Watts rode ahead of his friends, who came upon him along Highway 26 between Mokelumne Hill and Paloma.
As reported here, emergency responders transported Watts to Mark Twain Medical Center but he did not survive his injuries. At this time the Calaveras County Coroner's Office is still working to determine the motorcyclist's exact cause of death. This past Monday a stretch of the highway was closed to traffic until midafternoon while investigators processed the scene.
Arrested Sunday at the scene of the incident on charges of being a felon in possession of a handgun and possession of a controlled substance while armed was 56-year-old Michael Lee Parkerson of Manteca. The sheriff describes Parkerson as an associate of Watts who is not believed to be a suspect in the victim's death.
When asked if the shooting could be related to gang activity, Sheriff DiBasilio replied that there are many possibilities for speculation, including anything from road rage to a stray round from a hunter. "It's hard to tell at this time. We are still checking surveillance footage," he confides, adding that unlike in urban areas, there are far fewer cameras to tap as resources.
The sheriff says investigating detectives are still hoping to hear from anyone with video surveillance cameras trained along the Highway 26 corridor at the time of the incident as well as those with possible information that could help fill in missing details. The tip line number is 209 754-6030.