Official Opening Announced For Health Pavilion And Diana J. White Cancer Institute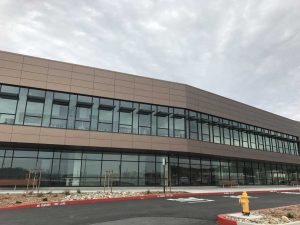 Health Pavilion and Diana J. White Cancer Institute

View Photos
Sonora, CA – The community watched in anticipation as the foundation, structure and walls went up and now is invited to share in the celebration as Adventist Health Sonora will cut the ribbon on the new Health Pavilion and Diana J. White Cancer Institute at the end of this month.
The event is scheduled for Monday, April 30, at 2 p.m. located at 900 Mono Way in Sonora. As reported here in an earlier story detailing the building of the facility, hospital officials tout that the 64,000-square-foot center will offer state-of-the-art health care services close to home. The public will also have an opportunity to tour the building with staff on hand to detail all the new innovative design and high-tech equipment.
The medical center provided this list of some of the services that will be offered at the Health Pavilion:
The Diana J. White Cancer Institute – medical oncology, hematology, infusion center and radiation therapy
Outpatient Rehabilitation – physical therapy, occupational therapy and speech language therapy with specialists in lymphedema care, hand therapy, pediatric therapy, neurologic therapy, orthopedics and sports medicine
Primary Care – a new primary care clinic designed to inspire collaboration among the care team while enhancing the patient experience with conveniences such as same-day appointments
Diagnostic Imaging – brand new, cutting-edge equipment for services including 3-D tomosynthesis mammography, 64-slice computed tomography (CT) and open-bore magnetic resonance imaging (MRI). Other services include positron emission tomography/computed tomography (PET/CT), x-ray, fluoroscopy, ultrasound and dual-energy x-ray absorptiometry (DEXA)
Laboratory Services – a lab draw station located on the second floor, adjacent to primary care. For added convenience and privacy, phlebotomists will be available to provide lab draws in patient exam rooms.
Hospital officials note that the building is awaiting assessment by the California Department of Public Health for its license. Once that is completed, hospital officials say services will commence throughout the next several weeks in three phases and patients will be notified of the location for their appointments during that time.