Peek Inside Adventist Health Sonora's Health Pavilion And Diana J. White Cancer Institute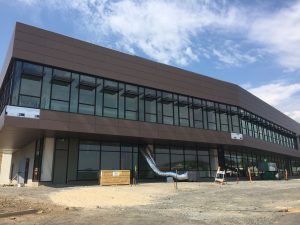 Adventist Health Sonora's Health Pavilion And Diana J. White Cancer Institute

View Photos
Sonora, CA — Construction is expected to be completed in December, and a grand opening next spring, for the 64,000 sq. ft. health pavilion and cancer institute at the intersection of Mono Way and Greenley Road.
Clarke Broadcasting was given a tour of the project by representatives from Adventist Health Sonora and California Gold Development Corporation. Mark Patterson, one of the project managers, says, "We've gone through one of the wettest winters on record, and crews out here have done a fantastic job. We've got about five months to go to finish up the building and then turn it over to the hospital."
It will then take a few months to move in hospital equipment and have it ready for operation. A recent development is that the roughly $2.1-million linear accelerator, a key piece of equipment for cancer treatment, arrived and is being installed. That area is shielded from the rest of the construction as it must be a dust free environment.
The most notable visible progress is on the third floor of the building, as crews have been working from the top-down, according to Patterson.
Adventist Health Sonora's Lindsay Brewer, Director of Marketing and Public Relations, adds, "It is amazing to see the progress from where we began on ground zero, with the groundbreaking, to where we are now. To see the finishing work go in on the third floor is very exciting, and to see the details that have been put into place for the patient experience."
There was a focus on utilizing natural light around the facility, and the surrounding windows will allow patients to easily gauge their location inside. In addition, Brewer says there will be soothing colors throughout the facility and local artwork on display.
As for the layout, the first floor will be radiation oncology and diagnostic imaging. The second floor will house primary care providers, rehabilitation services, physical therapy, occupational therapy, speech therapy and an outpatient laboratory. The third floor will have medical oncology and infusion.
There has been an emphasis on utilizing as many local contractors as possible to build the facility, adds Patterson.
Click on the image box to view multiple photos from the project tour.