Public Invited To Columbia College President Finalists' Forums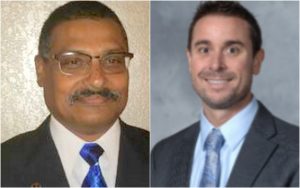 Drs. Santanu Bandyopadhyay and James Todd, Columbia College Presidential Finalists 2018

View Photos
Columbia, CA — Interested community members will shortly have the opportunity to meet, hear from and query the Columbia College Presidential Search Committee's final candidates.
As reported here, back in early February Clarke Broadcasting talked with Columbia College President Dr. Angela Fairchilds about her recent decision to retire her position come June and how the process to replace her was getting underway.
Last week, the search committee, chaired by Columbia College Vice President of Student Services Dr. Melissa Raby, completed its initial interviews, whittled the selection to two finalists and notified Yosemite Community College District (YCCD) Chancellor Henry C. V. Yong and the YCCD Board of Trustees. Individual public forums are now set for next Wednesday and Thursday during which each of the two hopefuls, both men, will have the opportunity to discuss their qualifications, background and leadership philosophy as well as take questions from the audience.
Candidates' Forum Times, Background Briefs
Wednesday (April 18) from 12:30 to 1:30 p.m., the public is slated to hear from Dr. Santanu Bandyopadhyay, who has served as Executive Vice President of Educational Programs and Student Services and Director of Institutional Research and Planning at Southern California's Cypress College as well as a Budget and Policy Analyst for Ohio University. He holds a Ph.D in Higher Education and an MBA from Ohio University as well as a BS in Physics from Kolkata University in India.
On Thursday (April 19) from 9:30 to 10:30 a.m. Dr. James Todd will make his presentation. Hailing from Modesto Junior College, where he has held the titles of Vice President of Student Services and Professor of Anthropology and Academic Senate President, Todd's educational background includes a Ph.D and MA in Anthropology from George Washington University; a BA in Anthropology from New College of the University of South Florida; an AA in General Studies from Eastern Florida State College, formerly Brevard Community College.
Both sessions will be held in the Columbia College's Dogwood Forum (11600 Columbia College Drive).