Caltrans Crews Digging Into Pass Clearing Chores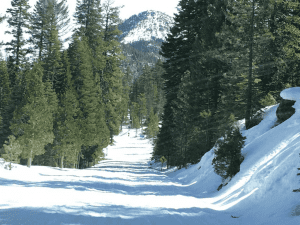 Hwy 108 beyond the Eagle Meadow closure gate April 2018

View Photos
Sonora, CA — As of Monday, Caltrans District 10 officials say snow-removal crews are making good progress on clearing the Mother Lode mountain passes.
According to Caltrans spokesperson Rick Estrada, this morning a team began working on Highway 4 Ebbetts Pass, which remains closed at the Mt. Reba turnoff.
He adds that this past week a four-person crew working on Highway 108 reached the Eagle Meadow Gate, allowing residents with seasonal homes in that area to access their properties. From there it is 13 miles to get to the next milestone: the Kennedy Meadows closure gate. To view photos of the progress click into the image box slideshow.
While this season's snow masses are lighter than what was on the ground at this time a year ago, Estrada says there are still literally miles of road to clear along with potential obstacles waiting underneath the snow.
However, Estrada confides that the recently cleared stretch of Highway 108 looks to be in good shape overall as a four-person work crew and four vehicles — a snowcat, rotary blower, loader and grader — continue dedicating an eight-hour per day five-day workweek towards readying the road for reopening sometime in May.