Update: More April Showers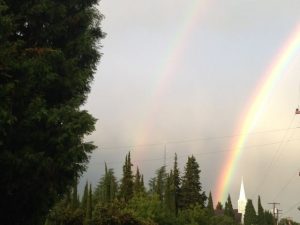 Double Rainbow Over Downtown Sonora 9/21/13

View Photos
After a weakening Pacific weather system moves through Northern California tonight, a second, colder and wetter system will follow Wednesday and Thursday.
According to the National Weather Service, snow levels are forecast to eventually lower to 3,000 feet.
A dusting of snow is expected around the 3,000 foot elevation by Thursday. Half-a-foot to a foot of snow is possible in the upper Sierra Nevada.
Travelers over the mountain passes should be prepared for winter driving conditions Wednesday night through Thursday.
High temperatures on Thursday will be much colder than normal with highs in the upper fifties to low sixties in the Central Valley and mainly in the thirties and forties in the mountains.
A rapid warming trend is forecast for Friday and Saturday with high temperatures in the seventies in the Central Valley and fifties to sixties in the mountains.