Update: Officials Investigating E-mail Threats Sent To Calaveras High Schools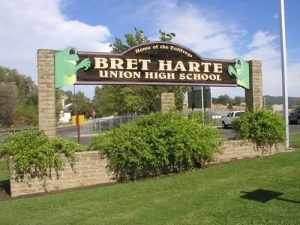 Bret Harte High School

View Photos
Update at 4:17pm: FBI officials are sharing that they are actively working with local law enforcement partners to determine the validity of threats made today against numerous schools, including several in Tuolumne, Calaveras and Stanislaus counties.
According to a tweet sent out around 4 p.m. by the FBI San Francisco Field Office, it is believed at this time that the threats were part of a large influx and do not appear to be legitimate.
Tuolumne County Sheriff's spokesperson Sgt. Andrea Benson says the latest is that officials are trying to pinpoint the initial origination of the threats. Details are still sketchy as her office received reports that the email threats sent to local schools were coming from the Netherlands, as did Angels Camp Police. Benson points out that Calaveras officials had reported threats coming from the UK, while the FBI was saying they may be from the Ukraine.
Update at 1:22pm: Tuolumne County sheriff's officials are now indicating that they were made aware this afternoon of an email sent to all the county's school districts.
According to sheriff's spokesperson Sgt. Andrea Benson, through her office's investigation, they learned that multiple schools throughout the state have received an email from a hacking group somewhere in the UK, referencing threats to schools. She adds that it reportedly went viral and is believed to be a hoax. As it is a threat case, she notes that it falls under the jurisdiction of the FBI. In addition to Calaveras County sending a release out to the community about it, the Stanislaus County Sheriff's Office also issued a communication.
Local law enforcement officials are still investigating the incident. Calaveras County Sheriff's spokesperson Sgt. Rachelle Whiting shares a communication sent to Calaveras Unified School District parents and guardians from Superintendent Mark Campbell:
Today, multiple school districts throughout the state received generalized email threats that were made from a known hacking group called ApophisSquad. CUSD was one of those districts. We notified the Sheriff's Dept. and they are working with Angels Police Dept. on this (as Bret Harte was one of the many districts receiving this e-mail). There were not specific details included in the email — no schools or districts were specifically mentioned. This group has been targeting schools in the UK over the past few weeks and announced today that they were starting to target schools in the US. We do not have any information at this time that this email threat is credible and actually targeted at our school district. With the information we have, there is no reason to believe that anyone's safety is threatened at any of our school sites. If there are any valid developments in this situation, further communication will be sent.
Update at 12:37pm: Angels Camp Police have corrected an earlier communication about a suspect they and the Calaveras County Sheriff's Office are investigating after the individual sent emails to two local high schools, threatening to bring and shoot a gun.
Angels Camp Police now say that the individual who sent the threats did not specify as being a Bret Harte High student. They also say that the source of the threats is still unknown. The threatening email message was sent to school officials in the Bret Harte and Calaveras school districts and did not mention a school or schools by name nor dates when the threatened action might occur.
Update at 9:15am: There is a new development to an earlier story. The Calaveras County Sheriff's Office reports to Clarke Broadcasting that officials at both Bret Harte and Calaveras high schools received an e-mail this morning from an unknown person who threatened to bring a gun to school and harm students and staff. The Sheriff's Office is working in conjunction with the Angels Camp Police Department to investigate the situation. Anyone with information that could help law enforcement in its investigation should call either the Calaveras County Sheriff's Office at 209-754-6500 or the Angels Camp Police Department at 209-736-2567.
Original story posted at 8:10am: Angels Camp, CA — Shortly before 8 o'clock this morning, the Angels Camp Police Department was notified about reported e-mail threats, made by an unknown person, claiming to be a student at Bret Harte High School.
Very limited details are currently available, but the police department reports the threats involved "bringing a gun to school and shooting it." The Angels Camp PD notes that there will be a noticeable increase in police presence this morning, and more information will be released later today.