Merced River Flooding In Yosemite National Park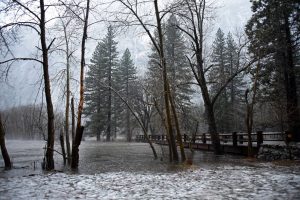 Flooding In Yosemite (archive photo)

View Photos
A Flood Warning remains for the Merced River at Pohono Bridge in Yosemite National Park, effective until further notice or until the Warning is cancelled.
On Saturday at 8 AM, the Merced River had reached flood stage at 10.0 feet.
As of early this morning, the Merced River was well above the flood stage at 13.1 feet.
According to the National Weather Service, the Merced River is now forecast to fall below 10 feet late this morning, then forecast to recede to near 7 feet after midnight tomorrow.
Northside Drive and Southside Drive, which are the main roads in Yosemite Valley, are flooded and are closed to traffic. The swinging bridge at Chapel Meadow has flooded along with Lower Pines Campground and Housekeeping Camp l.