Update: Flood Watch Issued Friday Through Sunday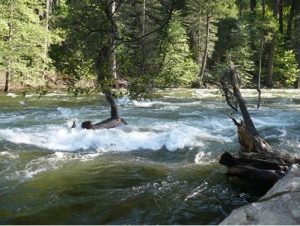 Merced River

View Photos
The National Weather Service has issued a Flood Watch for the Mother Lode, the Sierra Nevada and the Northern San Joaquin Valley from this afternoon through Sunday morning.
Three to seven inches of total rainfall is expected in the Sierra Nevada. One to three inches of rain is likely in the Central Valley.
Snow levels will remain mostly above the 12,000 foot elevation.
Heavy rainfall, in addition to snow melt, will create excess runoff and bring a threat of localized flash flooding, mud slides, rock slides and debris flows.
Moderate rises will occur on mountain rivers, streams and some weirs. Stream and creek levels are expected to rise and could cause local flooding. Ponding on roads is also a possibility. Some roads may become impassable or become washed out.
In addition, rainfall runoff will allow for sharp rises in the Merced River on Saturday morning and continue throughout the day. The rise in the Merced River could produce localized flooding near the banks, especially in the Yosemite Valley.
A Flood Watch means there is a potential for flooding based on current forecasts. You should monitor later forecasts and be alert for possible Flood Warnings. Those living in areas prone to flooding should be prepared to take action should flooding develop.