Alleged Heroin Dealers Nabbed In Downtown Sonora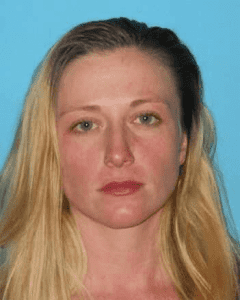 Megan Joy Corcoran TCSO Booking Photo

View Photos
Sonora, CA — While a female driver pulled over for a traffic stop at a South Washington Street gas station was driving on a suspended license and wanted on a warrant it turned out to be the least of her and her passenger's worries.
According to Tuolumne County sheriff's spokesperson Sgt. Deborah Moss, it was shortly before midnight this past Friday when deputies pulled over 33-year-old Megan Joy Corcoran of Modesto. Her passenger, 41-year-old Javier Corral, also of Modesto, threw a bag containing over 45 grams of heroin out the passenger window in an attempt to dispossess themselves of it.
Sgt. Moss reports that due to the quantity of heroin, evidence found and statements made, it was determined that both Corral and Corcoran possessed the heroin for sale and were transporting it for that purpose. Now they both each face two fresh felony counts relating to drug sales. Corral, who was also out on bail for a case out of El Dorado County, was also charged with committing a felony while out on bail; concealing evidence and obstructing arrest.