Tuolumne County Continues Fight Against Tree Mortality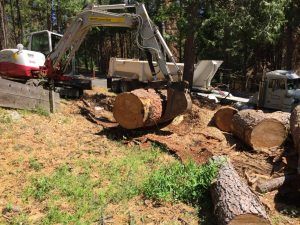 Leisure Pines Project, Heavy Equipment at Work

View Photos
Sonora, CA — Over 100,000 trees have been removed in Tuolumne County over the past few years related to the tree mortality epidemic.
On Mother Lode Views over the weekend, Assistant County Administrator Tracie Riggs broke down the numbers, noting that Tuolumne County government has been involved in directly removing 5,000 trees. In addition, "Our partner PG&E has removed well over 80,000 trees in Tuolumne County, which is a huge number. Caltrans has removed well over 25,000. When you look at it cumulatively, we have removed 100,000 to 150,000 trees in Tuolumne County."
She adds, "The pilot project for the state of California happened here, it was Leisure Pines. We did that in partnership with CAL OES and CAL Fire. We brought the entire state task force in, and had state department heads, and they were able to watch trees be removed and see the impacts on homeowners and their safety."
Looking ahead to the next big push, Riggs notes that recently approved CAL Fire funding will help the county remove trees threatening private homes and roads. To this point, the focus has been on public roads and infrastructure.
While progress is being made, tree mortality is still a major concern for county leaders, as Riggs notes, "We're probably looking at well over a million trees that are dead in Tuolumne County."
You can hear the entire 30-minute show by clicking here.