Linoberg Street And EDA Budget On Sonora Council's Agenda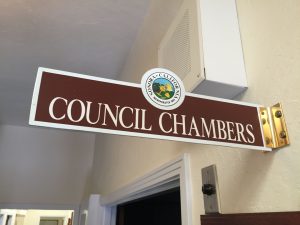 Sonora City Council Chambers

View Photos
Sonora, CA — The budget for economic development efforts, and a proposal to close a section of a downtown street, is on today's Sonora City Council agenda.
After receiving the endorsement of the Board of Supervisors early last month, the Tuolumne County Economic Development Authority's planned budget for next year will be up for review. Executive Director Larry Cope is proposing the same dollar figure from the current year, with the city pitching in $102,000 and the county $344,000. Click here to read a story about the county's earlier action.
In addition, the council will review the recommendation made by the Vision Sonora Committee to permanently close a section of Linoberg Street so that the space can be used as a park area. Click here to view a story about the committee's vote. Today's meeting starts at 5pm at city hall.