A New Four-legged Appointment By The Governor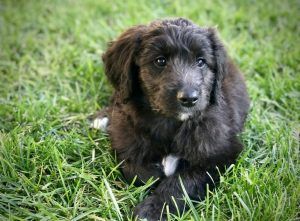 Deputy First Dog Cali Brown

View Photos
Sacramento, CA – California's First Family has a new member that has been appointed to a key role.
Governor Jerry Brown has announced the selection of two-month old Cali Brown of Sacramento to the post of Deputy First Dog in his Office. Her picture is in the image box. Cali is a cuddly "Bordoodle" as her mother is a Standard Poodle and her father a Border Collie. She was born on January 26 in Herald, California, with Brown stating that she is without a doubt the pick of her 13-puppy litter.
For the past two months, Cali has been learning the ropes on the art of being a ranch dog and has already shown promise in her engagement with horses, donkeys, goats, sheep and chickens, according to Brown. He adds, that Cali's new title means she will assist First Dog Colusa Brown in "herding staff at the State Capitol and will lend a paw around the family ranch in Colusa County."
Cali's has already begun intensive on-the-job training with the First Dog Colusa, who might be a bit jealous in sharing the spotlight as on twitter she wrote, "Seeing lots of love for my little sis Cali in my newsfeed. I agree she's cute, but just a ruffminder I was once Deputy First Dog too."
Brown humorously notes that although the Deputy First Dog will gladly appear almost anywhere there are treats, her compensation is per diem belly rubs. Cali is a Doggocrat. To see the bios on both dogs, click here.