Cyclists Racing To The Finish Line In Calaveras County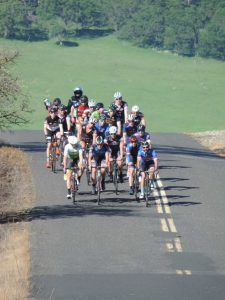 Copperopolis Road Race

View Photos
Calaveras County, CA – Two wheelers are hitting the streets in Calaveras County and hoping to be the first to cross the finish line in the 38th annual Copperopolis Road Race.
Boasting that the race has gained a reputation as a classic, one of the toughest one-day races on the West Coast, due to hills, pavement conditions, potential weather conditions, and the competition, race organizers, add that it is known as the "Paris-Roubaix" of California. The 21-mile course along county roads begins and ends in Milton with the finish line a quarter mile east on Hunt Road just east of Landfill driveway.
Cyclists ride in this loop: Milton Road, Rock Creek Road, Salt Spring Valley Road, Hunt Road onto Milton Road again. The aforementioned roadways will be closed to all but local residential traffic, with the exceptions of Milton Road, Rock Creek between Salt Spring Valley Road and the Dam and the westernmost quarter mile of Hunt Road to allow access to the landfill. (See map in image box) Monitors in neon vest with flags and stop and slow signs will man the intersections along the route. There are also barricades, signage warning of the event in progress have been posted at the intersections as well.
The race runs until 1 p.m. and course clean should be completed by 4 p.m.