Oak Valley Community Bank Branch Ribbon Cutting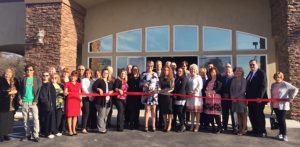 Oak Valley Community Bank
Sonora, CA — Oak Valley Community Bank has completed the move of its full-service East Sonora branch office. The bank celebrated with a ribbon cutting this morning. The new building is at least double the size of  the former location in the Indian Rock Center at 14580 Mono Way. The new address is 14890 Mono Way, which was formerly Sonora Subaru.
The new facility offers improved access and a lot more parking in addition to a spacious lobby with a high ceiling. Branch manager Michelle Ferguson describes the building as "A much more open and friendly branch, when you walk in it's a better atmosphere, it's wonderful."  Customers' safe deposit boxes have been transferred and more may be added at a later date. The branch also has walk-up ATM and night deposit box. Business hours will remain the same: Monday through Thursday from 9 a.m. until 5 p.m.; Friday until 6 p.m.
Oak Valley Community Bank and Eastern Sierra Community Bank are operated by parent company Oak Valley Bancorp. Along with two Sonora branches and Sacramento loan production office it oversees three Modesto branches and locations in Oakdale, Turlock, Stockton, Patterson, Ripon, Escalon, Manteca, and Tracy. Through its Eastern Sierra Division, the bank does business at offices located in Bridgeport, Mammoth Lakes and Bishop.