March Against School Gun Violence Held In Sonora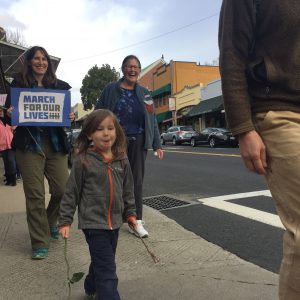 'March For Our Lives' rally in Sonora
Sonora, CA — A rally against gun violence brought hundreds to the streets of downtown Sonora in tandem with those supporting the March for Our Lives event in Washington, DC.
With anti-gun violence signs reading "No more dead kids" and another declaring "Students Demand Action," among others, the first steps began at Sonora High School and wound towards downtown along Washington Street this morning. (Click here for video) Protestors also carried flowers for those lost in school shootings, including the 17 students killed in Parkland, Florida last month. Sonora High Sophomore Nevaeh Pletcher detailed why she took to the streets, "Because I believe that everyone should have a voice and we shouldn't be put aside. I feel like guns shouldn't be in schools. They should be controlled and no one should have a military grade gun." (Click here for video)
While motorists honked their horns in support, as can be viewed here, March Organizer Debi Baron revealed to Clarke Broadcasting that on the eve of the rally they received a graphic and threatening email calling for the group to "stay away from our guns," to which she retorts, "We're not trying to take your guns away. Many of us are responsible gun owners…An email full of hate and racism, well, you're kind of shutting down my freedom of speech." She continues, "I don't think the 1st Amendment or the 2nd Amendment overrules the other," adding, "I think we can have both amendments and still have a very well-functioning democracy where we respect each other's opinions and decisions to talk about something in a public way — we shouldn't be threatened by that."
Baron says the email was reported to both the Tuolumne County Sheriff's Office and the Sonora Police Department, which the latter had several officers in patrol vehicles monitoring along the route. She adds that the group put out in an email and an alert on social media advising participants of the malicious email, stating, "We left it up to the individuals to decide how they wanted to respond. If it kept them away from the event so be it."
The march ended with a rally at Courthouse Park in Sonora, and by the size of the crowd, it appeared many were not intimidated.