Sonora Rally Against Gun Violence Planned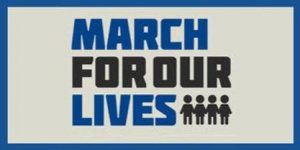 March For Our Lives logo

View Photos
Sonora, CA — A demonstration on Saturday being staged as a sister event to others planned across the country supporting the March 24 March for Our Lives in Washington, DC will include a march through downtown Sonora.
Scheduled to begin at 10 a.m. under the banner of #NeverAgainSonora, the march will kick off at Sonora High School and wind its way through the downtown Washington Street shopping district to Courthouse Park.
A public rally will follow there, adjacent to a temporary memorial honoring the 17 victims of the recent shooting massacre at Marjory Stoneman Douglas High School in Parkland, Florida. There will be a table where event goers may write postcards to their Congressional representatives and register to vote.
Organizers say the Sonora event is in solidarity with the Parkland students' coalition that rose up in the aftermath of the shootings. That coalition, which is spearheading the DC march, is likewise supporting companion events that will be happening nationwide.
Altogether, the demonstrations are supporting the coalition's mission: comprehensive, common sense gun control regulations nationwide so no other student need pursue their education while fearing it might be the last day of their lives. The flagship event's organizers stress that the movement is supportive of people's gun rights under the Second Amendment, but with alterations and restriction.
Local student leaders, faculty, and political activists are among those invited to speak at the Sonora rally along with featured speakers that are expected to include Marc Boyd, an Arnold educator; California Senate candidate Tom Pratt of Murphys, and Assembly candidate Carla Neal, who resides in Madera County.
As reported here, on March 14 a Sonora event was held in support of the coalition's #EnoughNationalSchoolWalkout. About 200 students in Tuolumne County reportedly took part that day in various types of walkouts.