Sierra Nevada Weekend Winter Storm Warning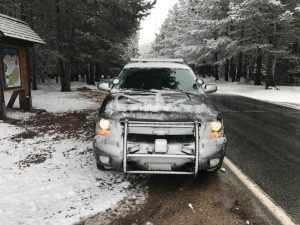 Snow along Ebbetts Pass HWY4 9/22/17

View Photos
The National Weather Service has issued a Winter Storm Warning for the Sierra Nevada from 6 PM this evening to 9 AM Sunday.
Total snow accumulations will range from twelve to thirty inches above the 4,000 foot elevation.
Additionally, the Flash Flood Warning remains in effect until 2:15 PM this afternoon for Moccasin Dam in south central Tuolumne County.
Last night, local authorities reported that water levels have decreased at the Moccasin Dam and it is no longer in imminent danger of failing.
However, a risk of potential failure still exists.
The dam owner was going to closely monitor the situation overnight.
Evacuations of the fish hatchery and powerhouse remain in effect. Therefore, the flash flood warning remain in effect.
Local authorities will re-evaluate conditions at the dam this morning.
An update will be issued after the evaluation.
A Flash Flood Warning means that flooding may occur. Portions of highway 49 were washed out near the Moccasin Dam.
A Winter Storm Warning means there will be snow covered roads and limited visibilities. Travel is not recommended while the Warning is in effect. If you must travel, keep an extra flashlight, food and water in your vehicle in case of an emergency.