Update: Moccasin Dam In Danger Of Failing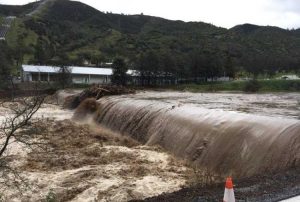 Moccisan Creek Dam 3/22/18

View Photos
Update at 5:05pm: Tuolumne County sheriff's officials passing along the latest word say failure of the Moccasin Dam is no longer imminent, but there remains potential for it. Old and New Priest grades have reopened along with Highway 120.
Officials say the dam operator will continue to closely monitor the situation at the dam through the overnight hours. Evacuations of the fish hatchery and powerhouse and the flash flood warning remain in effect. Tomorrow morning, plans are for local authorities to reevaluate conditions and issue an update.
Original Post at 4:05pm: Sonora, CA — An emergency alert has been issued regarding hazardous conditions — possibly an imminent failure of Moccasin Dam on Moccasin Creek.
The Tuolumne County Sheriff's Office is directing anyone at Moccasin Point Marina and within the camping area to get to higher ground. Since Priest-Coulterville Road is currently closed, anyone leaving the area should head towards Sonora on Highway 120.
Dam operators reported the imminent failure, indicating that flood waters will move down Moccasin Creek to Don Pedro Reservoir.
According to Sheriff's officials, Highway 49 will continue to be impacted by flooding due to spillway outflow and Highway 120 may be additionally impacted. They add that facilities downstream of the dam along the creek have all been evacuated and that the town of Moccasin, since it is above the dam, will not be impacted.