Woman's Warrant Arrest Leads To Multiple Felony Charges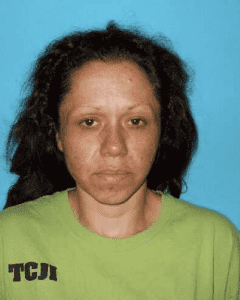 Leilani Serrano TCSO Booking Photo

View Photos
Sonora, CA – Although few case details are available due to the ongoing investigation, a local woman initially arrested on a pair of failure to appear warrants is facing fresh felony charges including auto and firearm theft.
According to Tuolumne County sheriff's officials, deputies took 37-year-old Leilani Rachelle Serrano of Jamestown into custody late Monday night near Rosier Avenue and Pine Street in Tuolumne on outstanding warrants for missing court dates on misdemeanor charges of driving with a suspended license and possession of a controlled narcotic substance. Deputies also cited her on a fresh charge of driving on a suspended license.
However, according to sheriff's spokesperson Sgt. Deborah Moss, once Serrano was at the Tuolumne County Jail, it was determined that the vehicle she was seen getting out of prior to her arrest was reported stolen out of Sonora. A subsequent search of it turned up items from the residence to which it was registered as well as identifying information related to Serrano. Sgt. Moss adds that two firearms reported among items taken from the residence have yet to be located.
Serrano's charges now include three additional felonies relating to vehicle and firearm theft along with conspiracy to commit a crime.