Update: Search For Missing Bear Valley Skier Enters Day Six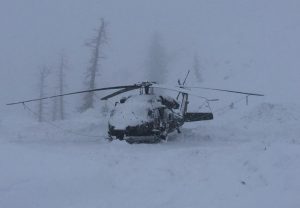 Search helicopter grounded due to snow

View Photos
Update at 2:10 p.m.: At 2 p.m. this afternoon rescue operations officials reported no evidence has been found that would help search and rescue personnel locate missing skier Thomas Mullarkey.
Alpine County Undersheriff Spencer Case states his office is continuing to search for Mullarkey with the assistance of the Bear Valley Resort ski patrol and a military Black Hawk Helicopter, and that this evening a fixed-wing aircraft equipped with a highly advanced surveillance system will continue scanning from overhead.
If no information is gained after today's search efforts, the sheriff's office plans to decrease resources and continue searching areas outside the resort's boundaries as winter conditions become more stable, allowing searchers to safely enter the backcountry. Anyone with information that may lead to determining Mullarkey's whereabouts is asked to contact Case at 530 694-2231, ext: 357. To view photos of the missing man, click into the image box slideshow.
Original Post at 8:54 a.m.: Bear Valley, CA — Teams are continuing to look for missing Bear Valley skier Thomas Mullarkey today.
The 65-year-old was last seen on Wednesday when he left his cabin in Arnold for a day of skiing at the resort. The Alpine County Sheriff's Office reports that search efforts have primarily focused within the boundaries of Bear Valley Resort because of the extreme avalanche danger in the surrounding wilderness and lack of evidence suggesting Mullarkey skied out of bounds. A CHP helicopter joined the efforts yesterday allowing for an increased footprint to be searched, adding to the resource count, which also includes Air National Guard helicopters, and a drone with infrared technology. For periods of time the air resources had to be grounded due to white-out conditions.
Several surrounding counties are helping with the search, including officials with the Tuolumne County Sheriff's Office's Search and Rescue Team. Anyone with information about Mullarkey should call (530) 694-2231.