CHP Shares Rules, Tips For Traveling With Chains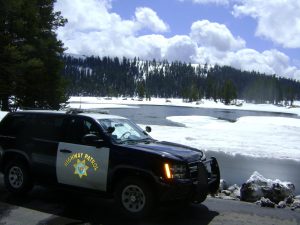 CHP San Andreas Unit on patrol

View Photos
Sonora, CA — The latest wave of wintry weather is triggering travel warnings from the Mother Lode's CHP units with regard to observing chain requirements.
Both the San Andreas and Sonora units are busy responding to multiple incidents while supporting chain installation areas along the local highways that, due to weather conditions, are set up in some lower elevation areas.
Stressing the need to be travel-ready through these, the CHP Sonora Office has released a timely bulletin, reminding drivers that during the winter storm season, which runs from Nov. 1- April 1, they are required to carry tire chains or cables when entering a chain control area, even if it is not snowing at the moment.
All vehicles must stop and put on chains when highway signs indicate they are required. Those who fail to do so can be cited by the CHP and fined. Officials remind drivers that control areas can change rapidly from place to place because of changing weather and road conditions and that the speed limit when chains are required is 25 miles per hour.
As a refresher, the CHP shares there are three levels of chain requirements:
• R1 requires chains on all vehicles except passenger vehicles and light-duty trucks under 6,000 pounds gross weight and equipped with snow tires on at least two drive wheels. Chains must be carried by vehicles using snow tires. All vehicles towing trailers must have chains on one drive axle. Trailers with brakes must have chains on at least one axle.
• R2 requires chains or traction devices on all vehicles except four-wheel/all-wheel drive vehicles with snow tires on all four wheels. Four-wheel/all-wheel drive vehicles must carry traction devices in chain control areas.
• R3 requires chains or traction devices on all vehicles, no exceptions.
Other instructions by the CHP are to wait until you can pull completely off the roadway to the right when preparing to affix your tire chains, Do not stop in a traffic lane where you will endanger yourself and block traffic. When removing chains vehicles must drive beyond the signs reading "End of Chain Control" and then find a pull-off area to safely remove them.
Those using the services of a chain installer should make sure to get a receipt and jot the installer's badge number on it. The reason for this is because installers are independent business people, not Caltrans employees. Having the badge number may help with any misunderstandings later. Additionally, CHP officials warn that chain installers are NOT allowed to sell or rent chains.