Vision Sonora Committee Endorses Permanent Linoberg Closure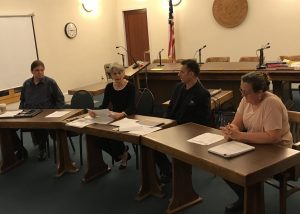 Vision Sonora Committee Meeting

View Photos
Sonora, CA — With a 4-0 vote, the Vision Sonora Committee endorsed the idea of permanently closing Linoberg Street in downtown Sonora, between Washington and Stewart streets, so that it can serve as a park area.
There were 14 people in attendance at this morning's committee meeting at city hall, and there was a general consensus that a permanent closure is the preferred plan, rather than putting in a structure that could allow for temporarily closing the road just for special events. No one spoke in opposition to the permanent closure. It is expected to be more cost effective, and it would allow for the use of potted trees to serve as natural shade and barriers. There are also plans for furniture to be set up, and a mural to highlight local history.
Vision Sonora Committee members on hand included Chair Connie Williams, Darin Grossi, Mark Plummer and Rachelle Kellogg. Members Sherri Brennan and Tim Miller were absent.
Kellogg noted that the idea to close Linoberg had been floated at least two other times going back many years, but this is the furthest it has come to becoming a reality.
In addition to creating a new community gathering space, the committee mentioned it could also create economic development opportunities by connecting Washington and Stewart streets for those shopping downtown. It could also potentially create a parking space or two by extending the sidewalk there on Washington and Stewart. The committee also announced it has received a letter from the group that owns the buildings on both sides of Linoberg Street enthusiastically endorsing the closure.
After the meeting, Mayor Connie Williams stated, "The next step will be for this to go to the city council. At that meeting we will get public comment again, and then the council will make the decision whether or not this street will be permanently closed."
The council is likely to take it up during the first or second meeting of April.
Where the funding will come from to carry out the project is still to be determined, but it would likely include fundraisers and requesting donations. A total price tag for the project is also to be determined.